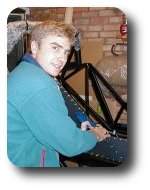 I have always been enthusiastic about cars, including road cars and motorsport. Driving gives me immense satisfaction, but I am also very interested in the technology that makes a 'good car' good.
On finishing my degree in Mechanical Engineering I continued to be a student for a further 4 years working towards my PhD. This involved computer simulation of vehicle dynamics, and investigated the benefits of electronic systems to the on-road handling performance of off-road vehicles. I was sponsored through my PhD by Land Rover, and subsequently began working at the Design and Engineering Centre at Gaydon in Warwickshire. I continue to support the development of new suspension systems for Land Rover and Jaguar using computer simulation.
I now live in Warwick with my wife, Liz, and our 2 daughters, Isobel and Ruth.
In addition to cars, my other interests include Mountain Biking, Hill Walking and DIY.