2011:
3rd May: What a great Stoneleigh show! Apart from the brisk wind the weather was great, and the turn out on the JPSC area was fantastic on the Sunday: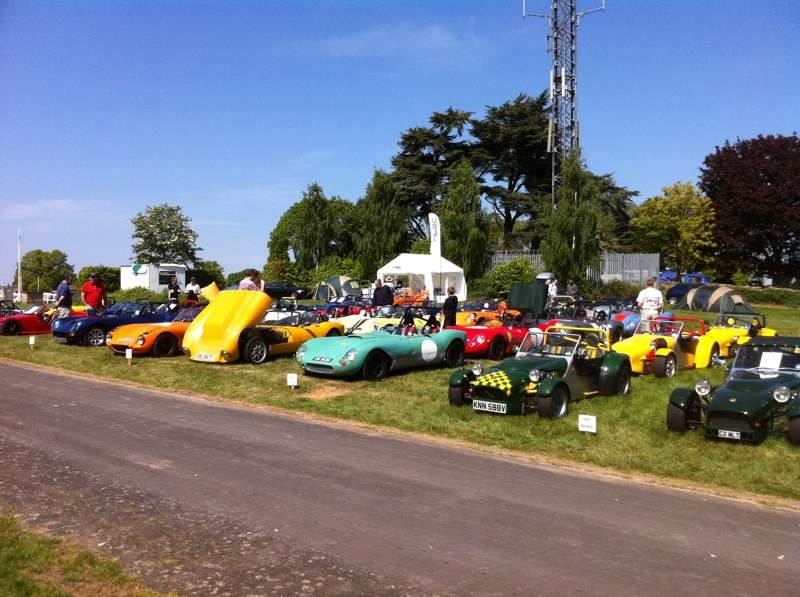 Other news is that the Mojo project is now going to be produced & marketed by Typhoon Sports Cars, details should shortly appear on their website.
19th April: With the Stoneleigh show fast approaching (1st & 2nd May), it was time to neaten up a few rough edges (there are many!). The rear arches in particular have taken a hammering, with hundreds of stone chips and some small holes right through the gel coat. I had experimented with some carbon-look material a few years ago, but it didn't stay attached for long. This time I've tried out some 3M Di-Noc Carbon film, and ended up using it in a few extra places too... Read more about it in the updated section HERE.
15th February: I recently swapped broadband provider to Plusnet, they are currently offering 3 months free broadband for referred signups (and I get 3 months free too!). Click the banner below and follow the instructions, stating my username (neileverett) as your referrer:
2010:
1st October: The airbox is fitted and working! See another update HERE.
20th August: There seems to be an unprecedented number of second hand Mojos for sale at the moment! I am aware of at least 4 currently, including the Meggt demo car mentioned previously. I know the owners of all the cars, so can encourage you to go take a look if you are in the market for a Mojo! (Click pics for links to pistonheads classifieds)
The airbox project has made a bit of progress over the last few weeks, see the updated page HERE.
The dampers were recently returned to Protech for a bit of a rebuild, 1 of the dampers had some pretty severe damage to the damper rod which had caused lots of oil to be lost. The other 3 dampers had some rod damage, so all 4 were rebuilt with new rods, new seals and new oil. The bill came in at £120, which I don't think is too bad given they are now as good as new. The damper rod damage is a bit unusual, but a chat with Kevin at Protech revealed that some cars seem more prone to it than others, e.g. MX5s seem to give problems whereas TVRs don't. It must be simply related to the position of the shock relative to the wheel, I think. I am looking into some kind of shield or boot to protect the damper rod a little better from flying debris...
It was money well spent, as the car is now feeling much tighter, but riding better too. Great stuff!
27th May: Meggt are selling their Mojo demo car, see ad below:
Sylva Mojo SE, with a 1250 Ford Sigma Engine
Car featured in the June edition of Complete Kit Car
This car was built by Sylva Autokits as a demonstrator, and completed by Meggt. It passed IVA in October 2009 and has done less than 300 miles since.
Specification:
Based on a 1996 Ford Fiesta with age related registration number.
Fuel injected 16v 1250 Sigma engine and 5 speed gearbox.
From the Fiesta it also utilises the catalytic converter, wiring loom, instruments, ECU, fuel pump, and pedals.
Ford hubs with disc brakes all round.
14" wheels with new A539 Yokohoma tyres.
This car has been used as a demonstrator and show car by both Sylva and Meggt.
The car is for sale at £8500 o.n.o
Please contact Meggt via their website: www.meggt.com and mention where you saw the ad!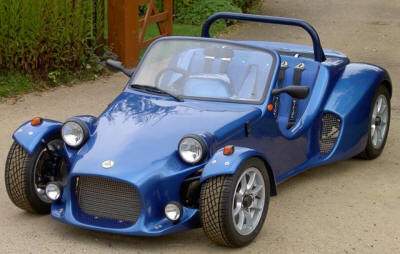 1st May: Added some new photos of the Mojo to the galleries pages, to reflect what the car now looks like after the wheel change and the updates to black mesh. The changes have made lhe car look a fair bit different, I'm very pleased with the facelift!
You will hopefully notice that the Mojo is looking particularly clean in these new photos, and that's because it's had it's annual full-on clean in preparation for the Stoneleigh show, which opens tomorrow. In true Stoneleigh fashion, the weather looks like it might cause a few problems...!
21st April: Had the misfortune of having someone drive into me on the way home from work! I was stationary in a queue of traffic at the time, and the chap behind decided it was time to go. Claimed he didn't see the bright red sports car with the high level brake light glaring him in the face... I was NOT amused! Thankfully it was a low speed bump and the flexy plastic bumper of the car that hit me took the edge off things, and no damage was done! Phew! Bit of a scare at this time of year, as I always try and get the Mojo looking at its best in time for the biggest kit car show on earth!
17th April: Only 2 weeks to go until Stoneleigh! I'll be there both days, please come and say hello if you are passing. The Mojo will be parked in the JPSC club area.
Completed the updates to the mesh around the rest of the car.
Also stripped down and repainted the cycle wing stays and front top wishbones, as they were starting to suffer after 5 winters of abuse from salted roads.
12h February: The Mojo passed 30,000 miles on the way to work this morning!
8th February: Used the new mesh to redo the nose aperture. At the same time I bonded in a couple of small radiator blanks inside the nose, to help ensure the bulk of the airflow is forced through the rad, improving cooling efficiency. Just have the rear arch intakes, engine cover intake and rear end vents to do now...

You will notice this was taken just after the first wash of 2010, completed with a little assistance from a willing helper:

Also received the small badges I had ordered to disguise the holes in the engine cover (from the old bonnet pins). I think they are in keeping with the Mojo...

25th January: I'd been on the lookout for some black mesh to re-do the grilles around the car (radiator, rear arches, engine cover, rear vents) as the car is developing a bit of a black and red theme after the wheel swap last year. However, I've had issues with the current aluminium expanded mesh fracturing over time, and also thought that the black painted stuff that you can get would inevitably look tatty once if started getting chipped. So, I hadn't bought anything, until I found myself in Halfords on Friday... They had a clearance section with all kinds of goodies reduced to silly prices, including 2 large sheets of black plastic mesh, one with slightly larger holes than the other. At £2.50 a sheet I bought both!
Hopefully this should be a bit more resistant to vibration, and change the look of the car a bit too. Add it to the (long) list of jobs...
18th January: 2 more test videos, first one another dark, snowy morning with a bit of opposite lock required whilst trying to drive in a straight line at about 10mph... and this time with no brake or throttle input to trigger the slide!
Second one is the first daytime test of the MD80, the mount (speedily achieved with 1 zip tie) could do with being a bit more secure and position needs tweaking up or down to avoid the windscreen header rail being right in the middle of shot, but overall I think the quality is pretty good for £20...
12th January: Bought one of these Mini video recorder gizmos for in car recording! £20 + delivery from a UK ebay seller (there are loads of imitation imports available for about £13 delivered, however these are plastic rather than alloy cased, and seem a bit hit and miss). Mine is essentially identical to a Veho Muvi (current cheapest price £40 at tesco direct). Very neat little unit...
The first test was a bit of a challenge for the little MD80, given it was completely dark! But the amount of snow on the roads meant it just had to be recorded! The mount was a quick cobble together, hence the jaunty angle and some vibrations. OK the quality is not great, but night time filming is a real challenge for any equipment. I hope to see much better results for more normal conditions!
The whole journey was 'entertaining', the first 100 yards or so the most so! The first couple of minutes can be viewed below:
This is the Mojo parked up at work, once we had some daylight:

It was a tad slippy!
5th January: Happy New Year! Managed to grab a bit of garage time over the Christmas break, such that I have now uploaded 2 small new sections to the mods area: Headrests & bonnet hinges
Also added a very small update to the airbox project pages
And just to prove that the Mojo gets used in all weathers, here's a quick clip of my (early) journey home this afternoon. Yes, that is an inch of snow on the nose!
2009:
13th November: Added some extra pics of me driving the Mojo at Llandow (courtesy of Ian & Adam at Complete Kit Car magazine) to the trackday report.
Also added a pic of Simon Winn's recently SVAd Honda powered Mojo SE to the galleries.
16th October: I have started to source some bits for 2 longer term Mojo projects - airbox & dashboard update. More details in the mods section.
14th September: Updated header graphics to give the site a bit of a facelift and to reflect the new wheels!
9th September: Added a report on the trackday at Llandow
21st August: Scott Davies is selling his unstarted Mojo SE kit, see the ad below:
I have a Sylva Mojo SE which I have owned for a number of years. Due to changes in circumstances I never got chance to start the build and now with a little one on the way money, space and time are near non existant.
I have got lots of bits and pieces including a 1.6 Zetec SE engine and gearbox, Radiator, Driveshafts with brake discs and pads, front brake calipers (New) with pads, steering column and rack and plenty more!!!
I will make a list and post it later.
If anyone is interested or knows someone who may be interested then please let me know.
I would recommend coming and seeing the kit to understand how much of it is there.
I would like £3000 for the whole lot!!!
Thanks
Scott
If you are interested and want Scott's contact details, either drop me an email or find Scott's post on the Sylva chat list.
28th July: Lots to report! New radiator now fitted, so I've completed the write up. Secondly, I was on the lookout for some new tyres (the Yoko A539s were getting towards the limit after about 22k), but ended up with a complete new set of tyres and wheels! I've written a little about 'why?' here.
8th July: Booked to do the JPSC / CKC trackday at Llandow on 5th September! This will be the first trackday for quite some time. Looking forward to it, but will give the car a thorough once over beforehand! Want to get my new radiator fitted before then too...
18th June: Added some photos from the Wheels event that took place on 17th June. See the misc galleries section...
28th May: Have reformatted the site so that all pages are 200pixels wider. When I setup the site I formatted it such that it would look ok on a 800x600 resolution monitor, but I figure that most people have a lot more than that now! Tweaked the header images to suit, hope it all works ok...
Also added some pictures of Kevin Crookes' Mojo to the gallery section.
20th April: Received a complementary copy of the May 2009 issue of Complete Kit Car, complete with article on a trio of Mojos, one of them mine! As well as the main article, I also get a mention inside the back cover, including a mugshot... Doh!
Completed the section relating to the side bolsters for the driver's seat.
1st April: Added a new section to the galleries, with pics from the Complete Kit Car photoshoot.
25th March: A couple of weeks ago I was invited along to a small gathering of Mojos to meet Adam Wilkins from Complete Kit Car magazine. Matt Beardshaw from Meggt had arranged for the meeting to take place to get some coverage of his plans for the Mojo project, and invited Tom Clarke and myself along to give our input and so our cars could be included in the photos. The article should be appearing in the next couple of months, so keep a lookout on the shelves of your local stockist! I should also be getting copies of the photos, with permission to publish them on here, which is great - thanks to CKC!
Ed's Mojo SE passed SVA first time on 24th March - congratulations to him! Looks as though he is very likely to make Stoneleigh this year, mighty impressive since he first sat in a Mojo at Stoneleigh last year, and only took delivery of his kit in August!
Talking of Stoneleigh, it is now less than 6 weeks until the biggest and best kit car show in the UK. This last year has really flown by... I will be there as usual, hopefully on both days given how local it is for me. Should have cracked 25k miles by then!
It should be a good year for Mojos at Stoneleigh. Meggt will be there making themselves known, Ed should be there in his new SE (hopefully along with a couple more SEs) and Keith has let me know he is coming down from Aberdeen in his zetec '2', and I'm sure there will be a good few more turning up.
Keith also sent me some more photos of his car - see the gallery for the updates.
I have also started working on some side bolsters for the driver's seat, very blatantly copying Matt Beardshaw's idea! In fact, Matt very generously gave me an offcut of his foam for me to use. I have started a new page in the mods section...
20th January: Well another year is upon us! The main news in Mojo circles is that Sylva have sold the Mojo project on to Meggt, a new company run by my good friend Matthew Beardshaw. I've updated the links page to reflect this.
Ed is also making good progress on his Mojo SE build, with the engine started for the first time a few days ago - congratulations to you!
2008:
16th October: Minor updates all over the place...
13th October: I borrowed a racelogic driftbox over the weekend. This is a clever gizmo which uses GPS data and additional sensors to enable measurement of various aspects of vehicle performance. It's original application was to measure sideslip angles in 'drifting' competitions, but it also has a performance mode to measure acceleration... you can see where I am going here! I am often asked 0 - 60 figures for the Mojo and up until now have only been able to guess at 'somewhere around 5 seconds'. Now I have a definitive answer... See my short report added to the specification pages
18th August: Updated the links pages with 2 more Mojo build diaries.
8th July: Updated the wind deflectors project pages and added more Mojo photos to the gallery pages!
14th June: Updated the bootbox project page.
5th June: Added some updated photos of Tom Clarke's Mojo to the Mojo gallery pages
30th May: A few further updates to current work in progress.
21st May: I have added a new section detailing my bootbox project...
16th May: I think I've now updated all pictures to 1024x768, apart from those which I do not have in a higher resolution. Hope this is an improvement. I've also added a few extra pics here and there, e.g. Shelsley Walsh report now has pics at last!
Started a new section detailing the latest little project, so that I can hopefully enjoy using the car without sidescreens a little more often. Read about it HERE.
2 novelty pics here as well to show that a Mojo and mountain biking need not be mutually exclusive - I have done this a few times now!
5th May: Well despite less than perfect weather, Stoneleigh was still very enjoyable. It was great to catch up with a wide variety of people - those that I have met before, those that I know via email, and those who just come up and say 'are you the chap with the Mojo website?' - it was great to meet you all, and a real encouragement that the website is still getting read. There still seem to be plenty of wanabee Mojo owners out there - go for it!
I'm in the process of upping the resolution of the photos now that I have a bit more webspace (640x480 looks pretty rubbish these days!) - apologies if any broken links crop up. Please help me out if you find one by dropping me a mail about it...
21st April: I am a Dad for the second time - baby Ruth arrived on 2nd April!
The Stoneleigh show is fast approaching - it all happens on the 4th & 5th May. I hope to be there for most of the day on Sunday, subject to getting a pass out from baby duties...! I'd love to be there on Monday too, but that is more doubtful. As ever, the weather will probably have a hand in the final decision - rain and Stoneleigh seem to go together... If anyone wants to arrange to meet up for a chat about my Mojo experiences, just drop me an email in advance and I'll do my best to sort something out. The car willl be on the JPSC area which is beneath the mobile phone mast at the top end of the Stoneleigh site.
1st April: First update for quite a while - sorry! Now past 19000 miles - should be hovering around 20k by the time Stoneleigh comes round in just over a month!
Signed up to the JPSC last week - the new Sylva genre owners club. Find out more here:
Setup a new guestbook as the old one with Pipex is now not working
Added some more info to the suspension setup pages as I've been playing with spring rates once again!
Added some info about the latest upgrade - a change to properly adjustable rear toe links. I've added this to the suspension alignment section.
Finally - I have written a brief summary of how Sylva has developed the Mojo over time. As with many Sylva kits, there is a process of continuous improvement, otherwise known as 'tinkering'... Hopefully this should help explain the various design iterations that the Mojo has been through!!
2007:
13th September: Finally added a write up of the Shelsley Walsh Hillclimb School to the trackdays section.
23rd March: I've finally got round to adding a few more pics of other Mojos to the Galleries section.
20th March: I've added an update to the throttle bodies conversion pages. I now have a much nicer manifold solution!
My place at Shelsley Walsh Hillclimb School has been confirmed, I'll be there on 26th June.
16th February: I'm switching broadband provider over the next few days, so apologies if the site goes down for a while. Just point to www.mymojo.co.uk and you should be back in business. I will attempt to redirect hits to the old host to the new location... I'm switching to Madasafish broadband, who have a good reputation for service, plus give you a proper router rather than a usb modem, and do a good line rental & calls package too.
Subject to getting a place, I'm going to the Shelsley Walsh Hillclimb School on 26th June! This is run by the Midland Automobile Club who also run the Curborough Sprint School that I attended last year. Should be fun!
16th January: Added a pdf file to the review of the sprint meeting at Curborough. This includes some interesting extracts from the latest issue of MAC News...
2006:
22nd October: Added some more photos to the review of the sprint meeting at Curborough- thanks to Rich for providing the pics (well, the in-focus ones anyway...)
10th October: Had a fantastic day at Curborough on Sunday for my first competitive sprint event, driving a Caterham (see the Sprint School review for the full explanation!). I've put up a new article about the day.
12th September: Added a few more piccies and some movies to the Curborough Sprint School review.
I've applied for my Non-race National B licence from the MSA :-)
I'm going to be at Donington on Sunday 17th September for the kit car show and 750MC racing. I am organising a run from Warwick leaving at 9.30. If anyone would like to tag along, drop me an email. I should be lurking on the Sylva stand when not watching the racing, come and say hello!
8th September: Had a fantastic day at Curborough Sprint School on Tuesday, culminating in a surprising and exciting outcome... Read more about it HERE!
16th August: MOT passed first time, great!
Added a couple more pics to the brake pedal switch page.
15th August: Fixed the messed up front page.
I've now fitted the brake pedal switch, more info here.
MOT tomorrow!
4th August: Added a final entry to the throttle bodies conversion page.
I am off to Curborough Sprint School on 5th September- should be good fun!
Passed the 10000 mile mark a couple of weeks ago! Piling the miles on...
7th June: Added some pictures of Tom Clarke's Mojo SE to the galleries.
27th April: Stoneleigh kit car show this coming weekend, I will be there both days given that I practically live on the doorstep. I should be lurking on the Sylva/Stingray stand, which will this year be outside with the Sylva Sportscar Register, so please come and say 'hello' if you are there.
I've added some more content to the throttle bodies page, describing the latest mapping exploits. Just a low throttle glitch is causing frustration now, but otherwise things are running well.
I was at Curborough sprint track again last week, unfortunately it was a fairly wet day so no pictures of the Mojo in action. However, it was a good opportunity to drive the Mojo to (and beyond) the limit of adhesion... I've written a little article, which appears in the trackdays section.
11th April: Throttle bodies are go!
3rd April: I passed the 8000 mile mark on the way to work today; the sun was out, the shades were on, what a great way to start the morning!
29th March: The local SSR meet will revert to 1st Thursday of the month from April onwards, so the next meet is on 6th April at 7.30pm. More details on the SSR website, under 'Local Meetings', or drop me an email if you have any further questions...
Just in case you thought it had gone very quiet on the throttle bodies conversion, I am now simply waiting for a clear weekend to do the final swap. It's currently looking promising for the weekend of 8th & 9th April...
26th March: Added some pictures from Total Kit Car Live to the galleries. It was a good day, with fine weather until mid afternoon. The journey home was a bit damp, and I was tired, but well worth the trip.
22nd March: A slight re-arrange of the menus, the content is the same as before.
Added some more pictures of Bob & Andy Abel's Mojo, now rapidly approaching readiness for SVA!
21st March: Been doing a bit of sprucing in preparation for TKC Live on Saturday. I've finally got round to painting the inside of the windscreen surround black, which now looks much better. I will eventually do the inside of the engine bay and nosecone for completeness. I've also touched up a few blemishes in the external paintwork, and done some other general tidying. The weather forecast for Saturday seems to vary by the hour, so fingers crossed for NO RAIN!
I've also now added a 'guestbook' for people to leave their comments & suggestions. It's great to hear from people around the world who have stumbled across the website, I do welcome emails, but if you don't want to email then please make use of the guestbook!
The trip to the Phil Price Rally School was great fun, I've put a few pics in the misc gallery.
13th March: Great racing at Mallory, and Samir did a good job for his first race- see his report here.
I am now definitely going to Total Kit Car Live! on 25th March, and will be helping out with Sylva. My mojo will be there alongside the RiotSE factory demo car. Please come and introduce yourself if you are there too!
Before that, I am off to the Phil Price Rally School for the day on 19th March! I am really looking forward to it, should be good fun.
Fixed a few problems on the site, mainly with the links on the contents page pointing to my hard drive rather than the website. Ooops. Please do email me if you find dead links or similar, there really shouldn't be ANY!
9th March: I'm off to Mallory Park on Sunday for the first meeting of the 750 Motor Club this year. I know a few guys who are racing in the Locost championship, so will go along to offer some moral support. Weather forecast is currently for rain and snow, so I think I'll leave the Mojo in the garage...
I popped round to Samir's this evening, Mallory will be his first Locost race. He bought a car which ran in the championship last year, but a bit of work is required before Sunday- new harness, plumbed in extinguisher, getting the thing started... The harness was fairly straight-forward, the extinguisher is a job for daylight hours tomorrow afternoon, and getting it started proved entertaining! The starter button produced nothing more than a dimming of lights- no noise from the starter at all. We tried various things with no success, until Samir suggested giving the starter a knock. On the next press of the starter button, the starter motor did finally emit a noise. A couple of 'thwacks' later and we had it running. 'Brute force technique' saved the day...
28th February: Another TB update, and some more on springs and dampers too... Sorry, this is getting a bit repetitive!
19th February: More work on the TB conversion... and a small update to the Springs & Dampers page in the Mods section.
16th February: Another update to the throttle bodies upgrade page, which I've now split into 2 sections (background info & the conversion diary) as it was getting rather huge, so for the latest news you need to click 'conversion' on the menu...
Won an ebay auction this evening for a pair of 275lb/in springs to continue my suspension tweaking exploits. I am going to try the previous 325s on the front, and stick the 275s on the rear. Bargain for £8.50!
Talking of springs, I've also updated the corner weights & ride frequencies Excel sheet to include some calcs for roll stiffness, hopefully it might be useful to someone although it requires you to make reasonable assumptions for roll centre heights and suchlike... I also improved the ride frequency calcs, as I had previously neglected the influence of the tyre vertical stiffness.
It's a shame to see the Stafford Show has been cancelled, although it's fairly low key it gets the year of shows off to an early start. Let's hope it returns in the future. I may now show my face at Total Kit Car Live! at Oulton Park on 25th March...
I'm also hoping to go to some of the 750 Motor Club events this year as I know a few people racing in the Locost and RGB championships. The first event is Mallory on 12th March.
30th January: I have at last got myself a broadband ADSL connection sorted, so the site is moving to a new host with pipex. Hopefully you won't be aware of this, but let me know if you spot any problems over the next few weeks.
Updated the throttle bodies page once again with progress so far in 2006...
2005:
23rd December: Dan McEwan is sadly selling his Mojo kit, here are the details:
Quote from Dan:
Mojo Chassis/Body Starter pack
Purpose made laminated windscreen
Steering rack, support & track rod ends
Hand brake & cables
Alluminium fuell tank
Set of 2.25" steel body fully adjustable shock + springs
All brake components
Purpose made Radiator
Exhaust Link
Exhaust manifold
Silenced back box with rolled end pipe
Mountney Steering wheel
Other items i have are:
Front uprights from fiesta with new bearings & seals and with drive shafts
New rear discs
Completely reconditioned Front sierra uprights & calipers with new discs, bearings, seals.
Toyota MR2 with all relevant parts to complete the build.
Engine Stand
It has cost me over £5000 but am looking to get £4250 for it all. People who want to just buy the kit and not the MR2 are welcome to contact me too via email or my phone number on 07949273783.
20th December: Updated the throttle bodies page, and made some major changes to the menus, and added some new stuff here and there. I've re-organised some areas, so for example I've put the previous diary & tips sections together in a build section. Hopefully this makes it easier to get around the site. Apologies if it confuses anyone! Please email me if you find any dead links or other problems...
4th December: Started a new page detailing my conversion to bike throttle bodies.
10th November: Today I won some GSXR750 throttle bodies on ebay. They are coming from Canada for £85 delivered, and are the version which have a fuel rail which can be modified to a different spacing. So, the fuel injection upgrade is now officially under way! Hence, I've started a new section which will detail the whole upgrade. For the time being it will just document some of my thoughts on the different options, and why I've decided to go the planned route.
8th November: I've added some pics from the event at Gaydon to the other events section of the gallery.
Also added some pics of Matt Beardshaw's K-series Mojo mid-build to the other Mojos gallery.
I'm currently pondering an upgrade to fuel injection. There is nothing wrong with the engine as it is, but I think an injection system would be better for my routine of daily use through the winter, and give better fuel economy & performance too. I'm looking at using motorbike throttle bodies, combined with a chopped up version of the manifold that I originally got with the Zetec engine. Some angle grinding took place at the weekend, and I'm currently trying to source the throttle bodies. I'll also have to upgrade the emerald ECU to do injection. I'm not in a particular hurry, so will just get hold of bits as and when I can. Eventually, I should have some carbs, a weber manifold, facet fuel pump & pressure regulator for sale...
17th October: Great weekend. Firstly, on Friday afternoon a group of 'interesting' cars, including the Mojo, were allowed out on the test track at Gaydon. I clocked 127mph down the long straight, which was plenty fast enough. However, there were plenty of much faster cars, including TVRs, an Ultima, and a Nissan Skyline rumoured to have cracked 175mph! I hope to have some pictures in the near future...
Then off to the Donington show on Sunday, dropping in at Sylva on the way to check out the new unit and have a chat with some owners, prospective owners & current builders. This was a really worthwhile morning, and I enjoyed meeting everyone- great to meet another couple of Mojo builders in Martin and Keith too.
Then off to the show- not as good as last year in terms of the number of exhibitors, but plenty of cars in the display area, and some track action to keep you occupied. Altogether a good day out! I've added just a few pics of the SSR area here.
15th October: Updated the section on my suspension tweaks- the car is much improved. Also added a new section detailing the fitment of a high level brake light. Donington Show tomorrow, I'm going up to the new Sylva unit at Ripley beforehand for breakfast.
23rd September: Added a new section detailing my plans for tinkering with the rear suspension- click here. I've also fixed the problem with only some of pictures opening in a new window, and tried to sort out a load of bad links relating to some stupid mistakes with UPPER and lower case .jpg extensions... Sorry about that ;-)
1st September: Added some pictures of me driving the Mojo at Curborough. I've also just made up some stone deflectors for the rear wings- details in the Post SVA Mods section. Finally, as the Post SVA section was getting a bit large, I've created a separate trackdays section with a new link on the left.
25th August: Added a link to Martin Boakes' R1ot build site. See the links page.
24th August: Done some further tinkering with the website... Added a new R1ot build site to the links page. The author, Richard Burgess, hasn't taken delivery yet, so the build pages are understandably thin on the ground. However, there is a tech forum, which hopefully will become useful.
19th August: MOT retest went fine. Paid for a years road tax using the new online system. Having renewed my insurance with MSM last week, I am now all set for another year of Mojo driving!
18th August: The Mojo went in for its MOT today. It failed on 2 points: failed rear number plate bulb, and the nearside front lower balljoint dropped out of the wishbone when jacked up off the ground! The latter fault was fairly alarming, although the balljoint re-seated fine once the weight of the car was back on the wheels. I do recall Jeremy Phillips mentioning this happening to him in the past. His advice was to peen over the edges of the ball joint housing (part of the lower wishbone) to prevent it happening in future. I did this, after first jacking under the ball joint to make sure it was seated correctly.
11th August: Great day at Curborough yesterday! I've added a write-up to the trackdays section...
6th August: Used some L-section black plastic that I found in B&Q to neaten up the top edge of the vinyl trim on the inside of the sidescreens. I've updated the sidescreens section accordingly....
5th August: Found out I had a last minute place for a day at Curborough Sprint Track on 10th August!
4th August: Another successful West Midlands/Warwickshire meet took place this evening, with some more new faces appearing. I felt a little out-numbered though, the number of Fury owners or builders is increasing by the week. At least my mojo remains unique in the area, for the time being...
1st August: Back from two weeks in the South of France. Mojo has sat patiently in the garage for my return...
14th July: I've given the site a facelift, hopefully for the better...
12th July: Terry Francis has put his interesting X-flow powered Mojo up for sale. There is a picture in the Mojo gallery- please contact me if you want Terry's contact information.
11th July: An interesting weekend! On Thursday, the Mojo suddenly started running really badly, misfiring through the rev range. A quick peak under the engine cover found loads of fuel dripping out of the right hand carb. Something seemed to be stopping the fuel supply to the float chamber from being cut off. I stripped the carb down, and found that one of the floats was half full of petrol! Thankfully, I have managed to get hold of a replacement from a colleagues 'spare parts bin'- thanks to Steve! Mojo has now resumed normal service...
7th July: The July West Midlands/Warwickshire meet took place today, another good evening, and with better weather this time we took the liberty of a pint outside by the canal in the evening sunshine. See you again in August!
24th June: Went down to Goodwood Festival of Speed today, in the Mojo of course! It turned out to be a very long day, left home at about 8am, got home just before midnight! Still good fun though, although it took me about 4 days to get over the tiredness! I travelled down with Jon in his Caterham, which made the journey more fun. I've put some pictures in the updated gallery here.
3rd June: Well, I think the new local meet can be classified as a success, with 4 kit cars and 8 people attending, despite the weather being fairly miserable. Thanks to those that supported the event, hope to see you again in future.
2nd June: I have organised a new SSR local meet, details below:
First Thursday of the month, 7.30pm
Fleur de Lys Inn, Lapworth St, Lowsonford, nr Henley-In-Arden, West Midlands, B95 5HJ