You are best first reading about the September visit to Curborough to understand why the sudden competitive streak in me, and also why I'm driving a Caterham all of a sudden!
All went according to plan, I managed to borrow racing overalls from Samir, a helmet from the Sprint School, and found a narrow soled pair of trainers that fitted in the narrow pedal box of the Caterham (just...). I turned up at about 8.15am, Jim Robinson had already unloaded the Caterham he had brought over from Caterham Midlands (a 1600 120bhp K-series Academy spec car with full roll cage)
First job was to try it for size, adjust the seat (a novelty after the Mojo) and harnesses, check I could operate the pedals independently (just about!), check it started, and check tyre pressures.
I then signed on and waited for the scrutineer to pay a visit. All went fine, and in the meantime I got chatting with fellow competitors Campbell (Westfield 2.1 Pinto), Phil (4.2 D type replica), John (4AGE Striker), Ray (VX Caterham with 215bhp!) and Pete (Westfield 1700 X-flow), a very friendly bunch of guys.
Soon enough it was time for practice run number 1, with my only experience of driving the car being the 1st gear pootle from the parking space to the start line. Hmm. Nick at Caterham Midlands had warned me that the main limitation of the Academy spec cars was the Avon CR322 tyres, which he assured me would be somewhat lacking in grip, so I decided a sedate approach was required.
Leaving the line for the first time resulted in lots of wheel spin through first gear (traction no where near as good as the Mojo). Longer gearing than the Mojo meant I only got up to second gear for the first long left hand corner, through which I could already feel the car moving around a little on those tyres. At least it gave me the confidence that I could feel the car under me, so I had a reasonable run and came out with 2.81sec for the first 64ft and a 40.60sec finish time at a speed of 80mph.
Comparison with the 2 Westies showed I was in a reasonable ball park, and I was complimented by Jim Robinson on a sensible, neat and tidy first run.
An hour or so later and it was time for the second practice, still way too much wheelspin off the line, but a step in the right direction: 2.76sec 64ft, 39.09 @ 84 finish, so 1.5 secs quicker, and now faster than both Westies :-)
It was then announced that we would get an unexpected third practice run, which was very handy for building my confidence in the Caterham. Jim commented that he thought there was plenty more speed to be had in the first corner, so I pushed a little harder. A better start got me a 2.56 64ft, and 38.40 @ 84 finish, but this time Campbell went one better with a 38.24 @ 85. Must try harder...
The lunch break followed, during which further supporters arrived in the way of a variety of family members and friends- thanks for coming along to all of you.
My first timed run was proceeded by a mad dash back to the car to put my race suit back on, followed by a tense minute of not being able to get the ignition key in the barrel of the lock! I was hence slightly further back in the queue than I should have been, apparently made all the more obvious by the commentator giving me a good build up prior to my allotted slot, only to find it wasn't actually me. Whoops! I duly calmed down, had a go at warming the rear tyres (supposedly a good thing to do) and then went for it! 2.49 64ft was more like it, and a 37.93 @ 85 felt good! Both Westies were behind me once more...
:-)
My final run turned out to be slightly slower at 2.70 and 38.05 @ 84, so 0.2 slower off the start but a little quicker around the rest of the lap. I was trying harder again, missed a couple of apexes and had a couple of slightly more sideways moments, so I could definitely have gone faster still given more practice. Sadly, though, that was it for the day!
The Caterham and Striker were in a league of their own, with best of 34.56 and 35.17 respectively, but I was 60horses down on the Striker and 95 on the Caterham, so I didn't feel too bad. I did however beat both Westies, which was a nice feeling (apologies to Pete and Campbell- my competitve streak is showing...)!
Jim Robinson has since sent me the times from last years event, including those of the 2 sprint school winners. I was slightly down on Simon Marsh (37.67 best) but to quote Jim Robinson: "...it would be slightly unfair to compare to Simon Marsh who has campaigned for a few years and is one of the sons of Tony Marsh (6 times Hillclimb Champion!)". The second driver (Brian Ball) came out with a 38.88 best. So I was generally pretty chuffed!
Update: When the November issue of the Midland Automobile Club newsletter dropped through my letterbox, I was surprised to find a picture of me in the Caterham on the front cover!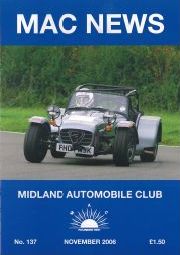 Click the image to read the pdf which includes the front cover, a report on the Sprint School written by Jim Robinson, and a report on the October Sprint meeting.