Blyton Park Trackday 18th April 2014
I've been a member of the JPSC for a few years, so when they announced a club subsidy towards a trackday at Blyton Park, I was keen to take part! I'd heard various good reports about the track, so although it is a bit of a long trek from Warwick, it had to be worth a go.
The drive up was clear of traffic but a little unnerving, as the new pair of rear tyres that had been fitted a few days before were causing the car to feel very twitchy and unstable at anything above 50mph, which didn't bode particularly well. I had replaced the tyres with like-for-like Toyo T1Rs so wasn't expecting a significant change. I hoped that they would scrub in after a few hot laps!
The last few miles were shrouded in quite thick fog, which didn't bode particularly well. During the briefing we were warned that the start may need to be delayed as the marshall posts were not all visible through the fog! Thankfully by the time all of the admin was sorted, there were signs of improvement, and the session started as planned.
I had not driven at Blyton before, so as always there was a period of learning the approximate driving line and braking points. Once I started to get the hang of it, the track proved to be fun, but the Mojo was proving to be far less confidence inspiring than previously, particularly through the high speed corners towards the end of a lap of the outer circuit shown below: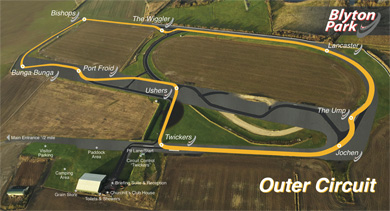 I double checked tyre pressures to make sure that the balance of the car wasn't being affected by a mistake after the new tyres were fitted, but this failed to improve the balance, and after a couple of stints out on the track, I decided to try swapping the new tyres onto the front of the car.
This made a huge difference to the feel of the car, back to it's planted, confidence inspiring self! It was noticeable though that I was now needing to apply much more steering lock through the corners than earlier, so the new tyres seem to generate cornering forces at a higher slip angle than the previous set, which tallied with the rear of the car feeling very loose prior to swapping the tyres around. I soon got used to the different steering characterisitics, and started to really enjoy the circuit, attacking the final section at between 10 - 20mph more than in the earlier sessions.
The Mojo ran faultlessly all day, racking up over 100 track miles, plus 100 miles each way from home making it over 300 miles total for the day!
Some pics from the day: